April is National Financial Literacy Awareness Month!
April is National Financial Literacy Awareness Month! In efforts to highlight the importance of financial literacy and teach students how to establish and maintain healthy financial habits, our staff at the Office of Student Financial Success want to help you!
So what is financial literacy? Financial literacy is the education and understanding of various financial areas including topics related to managing personal finance, money and investing. For some people, it may require knowledge and building new skills. For others, it may mean unlearning bad habits. Like spending your whole paycheck on frivolous things or ignoring your credit card bill! For some it could mean a change in attitude – like choosing to be your own financial advocate.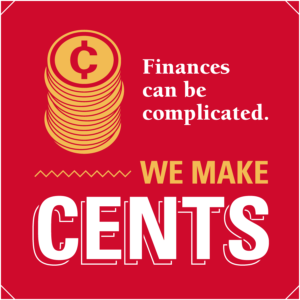 We know finances can be complicated, but we're here to help make 'cents' of it all! Attend one of our free online workshops to be entered in to win a $100 giftcard to the ISU Bookstore.
Curious about Credit? How to perfect your score – Tuesday 4/20/21 @ 1:00 PM  Did you know that there are ways to improve your credit score and ensure you get the best interest rate on loans in the future? In this workshop, we will discuss the components of a credit score and examine some of the common myths. You will learn credit management strategies and how to avoid the negative things that can impact your score. Learn how to get your free credit report, how to read it, and how to dispute and correct any errors. Register
Tackle Your Debt : Winning Strategies on any Budget – Wednesday 4/21/21 @2:30 PM  Got student loan debt? This workshop will help borrowers navigate the repayment process and keep on top of their debt. We will teach you how to pay off your loans as soon as possible, while saving you thousands in interest! This workshop will help break down the exit counseling requirement so you can be prepared after graduation. Register
Big Senior Send Off: Financial Advice for Grads – Thursday 4/22/21 @ 4:00 PM  A financial management workshop designed for any graduating students stepping out into the real world. Learn the importance of saving for retirement early, starting an emergency fund, and preparing for life after graduation. Register
Financial Literacy Trivia with Kahoot
Test your financial literacy knowledge for your chance to win a $100 giftcard to the ISU Bookstore! Register ASAP because Kahoot participation is limited to 50 students.
Wednesday April 21, 2021 @ 12:30 – 1:30 PM  & Thursday April 22, 2021 @ 11:00 AM – 12:00 PM
Register for Wednesday's Trivia
Register for Thursday's Trivia
We hope you'll join us for one of the workshops and take a much needed break from your classes to test your knowledge at financial literacy trivia!