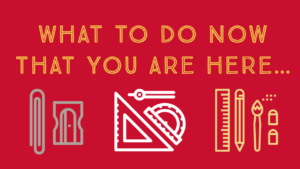 1. Get a job
Getting a job on campus can be beneficial to your college experience. Places on campus are willing to work with you and around your class schedule. There are also opportunities to find jobs off or near campus too. Getting a job during the school year will help you learn time management skills and will help you create connections with employers. This will be beneficial for your future and can be put on your resume. 
2. Attend class
Skipping class will seem tempting at times, but it is important to go. Besides learning the material, you will learn vital information that professors will expect you to know for quizzes, exams, and other essential assignments. Beware of your attendance policy for your class as it could affect your grade or, in some cases, get you withdrawn from the class. 
3. Stay on top of your work
Plan ahead. Staying on top of your assignments can benefit you in the long run. It not only will create free time in your schedule for you, but it will also help you with time management skills. 
4. Make sure your bill is paid 
Last but not least, make sure your University Bill is paid. Your bill needs to be paid in order for you to be able to register for classes for the next semester. Contact the financial aid office with questions on how to cover remaining balances if necessary.