Federal Loan Repayment Plans
Federal Loan Repayment Plans
A number of repayment options are available for Federal Direct loans. When it comes to repaying federal student loans, students are automatically put into the Standard Repayment plan — but you can switch to a repayment plan that's right for your financial situation. Repayment on federal student loans begin six months after a student ceases to be enrolled at least half-time in a degree seeking program.
The U.S. Department of Education has the Loan Simulator available online to help calculate your potential payment under a certain plan.
All federal loan borrowers will be assigned a loan servicer. This is a third party lender that the federal government has assigned to collect your loan payments. They are responsible for helping the borrower manage their loan repayment. More information on loan servicers and who your loan servicer is can be found at https://www.financialaid.iastate.edu/loans/federal-servicers/.
Students who enroll in an income-driven repayment plan and work for a qualifying employer may qualify for loan forgiveness options.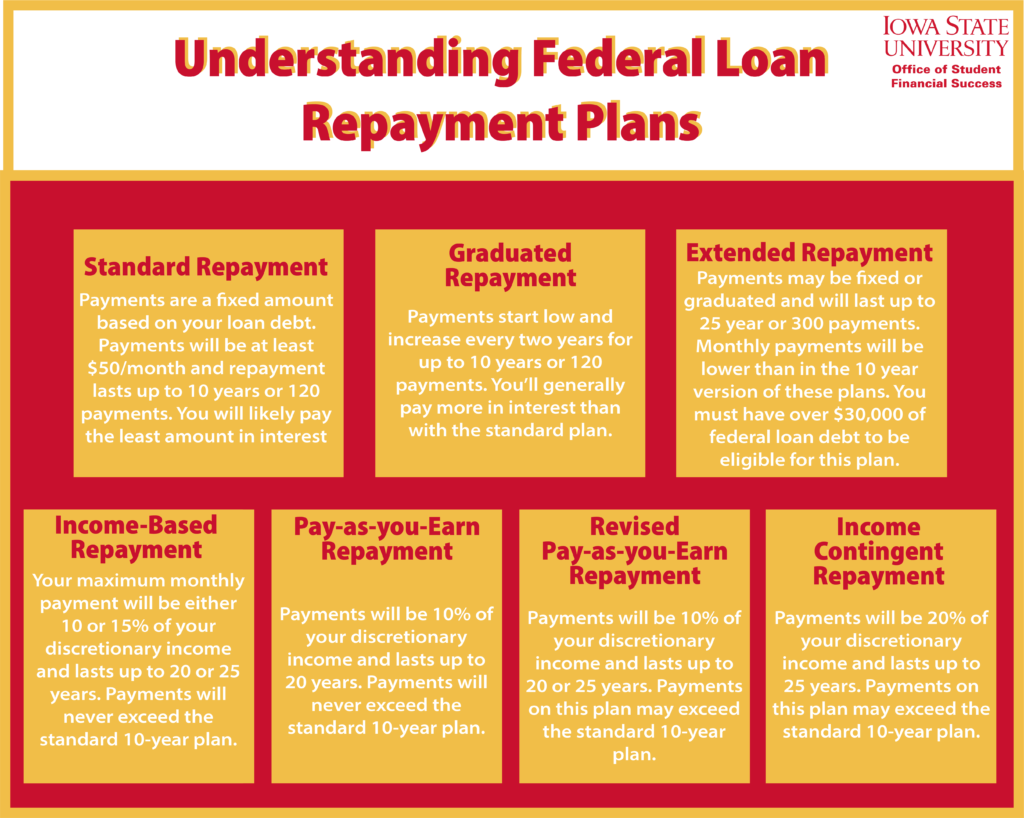 To explore federal repayment options further, schedule a Financial Success appointment in Navigate Student app.
If you are unable to pay your loans, don't give up. There are still options for you! First, you should always communicate with your loan servicer rather than simply stopping payments. Your loan servicer can guide you to the best option for you, which might include:
Deferment is a period in which repayment of federal student loans is temporarily postponed or waived, if a borrower meets certain requirements. If a borrower is enrolled at least half time in an eligible undergraduate, graduate, or professional program they may qualify for deferment. Borrowers who experience an economic hardship or are unemployed, may also apply for deferment while in loan repayment for a time period up to three years.
More information about deferment and the deferment forms can be found at https://studentaid.gov/manage-loans/lower-payments/get-temporary-relief/deferment#understand-eligibility-for-a-deferment
If you are returning to school at Iowa State and will be enrolled at least half-time in a degree program, you may qualify for a loan deferment. The Office of the Registrar can certify your enrollment at Iowa State University. Submit all In School At Least Half-Time Deferment forms to:
Office of the Registrar
2433 Union Drive
214 Enrollment Services Bldg
Ames, IA 50011
Phone: (515) 294-1840
Email: verifications@iastate.edu
If a borrower does not qualify for a deferment but are unable to make payments, they may qualify for forbearance. Forbearance allows borrowers to temporarily stop making payments for many reasons. There are two types of forbearance. They are:
Discretionary Forbearance
A discretionary forbearance is determined by the loan servicer. A borrower may request a discretionary forbearance for either a financial hardship or illness.
The borrower is serving in a medical or dental internship or residency program and meets other specific requirements
The total amount owed each month for all student loans is 20% or more of your total monthly gross income (additional conditions may apply)
The borrower is serving in a national service position for which you received a national service award
The borrower is performing teaching service that would qualify for teacher loan forgiveness
The borrower qualifies for partial repayment of student loans under the U.S. Department of Defense Student Loan Repayment Program
The borrower is a member of the National Guard and have been activated by a governor but is not eligible for a military deferment
If you fail to make payments for 270 days in a row, your federal student loan goes into default. Defaulting on a federal student loan has serious consequences that can negatively impact your financial future. If you go into default, you:
Are required to repay the entire unpaid amount of your loan immediately
May be sued by the federal government, which may take all or part of your federal and state tax refunds
May have your wages garnished by the federal government, so that your employer is required to send part of your salary to pay off your loans
May be required to pay a reasonable amount of collection costs and fees
Will be reported to credit bureaus, which will hurt your credit score
May be denied a professional license
Will lose your eligibility for federal student aid as well as help under most other federal benefit programs
Will lose your eligibility for loan deferments
May have your Social Security benefits garnished
Never ignore notices from your loan servicer or lender. If you experience any problems repaying your student loan, don't wait until you've missed a payment to take action. Contact your loan servicer immediately to discuss your repayment options.
Steps to Avoid Delinquency and Default
Understand your borrowing

Know the type of loan you are borrowing including the fees and interest associated with the loan.
Read the promissory note (MPN). The promissory note is a legally binding document. By signing the MPN, you are agreeing to repay the loan according to the terms in the MPN. All loans received must be repaid even if you do not graduate or find a job in your field of study.

Manage your borrowing

Create a budget every year to determine how much you really need to borrow
Do not accept your loans until you know you need them
Inquire about monthly payment plan options with the university
Contact the Office of Student Financial Success to discuss concerns you have about borrowing

Track your loans

Determine your loan servicer
Set-up an account with your loan servicer to track your loans
Keep records of your loans that include:

Correspondences from servicers
Principle amount
Interest rate
Servicer contact information
Requests for payment plan changes, deferments or forbearances
Documentation submitted to your loan servicer
Other pertinent loan information

Stay in touch with your loan servicer

Contact your loan servicer when any of the following occur:

Your demographic information changes
You graduate, transfer, withdraw or drop below half-time enrollment
You need help making your monthly payments