How much have you borrowed? Here's how to monitor on AccessPlus
Whether you are getting ready to graduate this Spring, or are currently enrolled, it's always a good idea to review your loan history from time to time so you are aware of your own borrowing. Don't wait until the last semester of your senior year! Luckily, you don't need to be a mathematician to estimate your monthly payments -this information is readily available to all student borrowers right on AccessPlus.
Here's how to view it :
The easiest way is to navigate through AccessPlus via the Student Tab. There is a sub-tab on your AccessPlus account labeled "Loan Pmt Estimate" under the Financial Aid tab. This tab is highlighted yellow in the graphic below.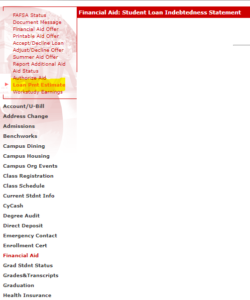 Once you click on the "Loan Pmt Estimate" tab, you will be shown your "Student Loan Indebtedness Statement" (pictured below). This will show the amount that you have borrowed to date in Federal Direct Stafford loans and/or private student loans, your Direct loan servicer, and your monthly payment estimates based on the standard 10 year repayment plan. In general, borrowers are given 10 years to repay their student loan debt.***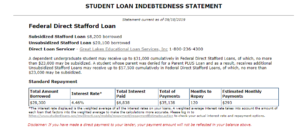 In the table, you'll also find an estimated total amount of interest that you will pay over those 10 years, your total amount estimated to repay (principal + interest), and the number of months given to repay (120 payments, or 10 years). If you've borrowed more than $30,000 in Federal student loans, you may be seeing an extended 25 year repayment plan as well. Be careful -while your payment may be lower, you will pay a lot more over the course of the repayment term. We always recommend sticking to the 10 year plan if your budget allows for it.
***Remember, if you cannot afford your payment, the Federal government also allows borrowers to apply for income driven repayment plans via studentaid.gov.
We recommend graduating seniors complete their Exit Counseling requirement, which ensures you understand your student loan obligations and are prepared for repayment. Students may complete this appointment virtually 1:1 through ISUappointments if they need further help navigating the student loan repayment process. If you won't be graduating any time soon, consider starting making small payments towards your loans now. There isn't a monthly commitment while your loans are in deferment, and these extra payments will help lower your payment upon graduation. Even $25 a month can go a long ways. Your future self will thank you!
For debt management strategies and more, contact the Office of Student Financial Success today.