The CARES Act and what it means for your student loans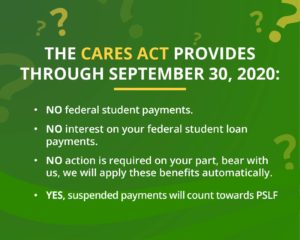 The U.S. Department of Education Office of Federal Student Aid is working hard to inform borrowers of the changing student loan landscape and what it means for their finances during this global pandemic. However, we understand this communication may be hard to interpret and you may be wondering what's fact versus fiction when it comes to your student loans at this time. Luckily, all information coming from your loan servicer or the Department of Education is a reputable and trusted source. Here's the latest regarding your student loans during the COVID-19 outbreak.
On March 27th, 2020, the president signed the CARES Act into law, which, among other things, provides broad relief for federal student loan borrowers. The Department answered questions about several provisions of the Act.
The biggest change that came into effect is regarding borrowers who are already in an eligible repayment status. The federal government has automatically stopped payment for all borrowers from March 13, 2020 through September 30, 2020. This will hopefully provide relief to our students who may be struggling to make their monthly payment due to loss of income or other financial hardship.
It's important to add that if you are still able to make your monthly payment, please do so through your loan servicer's account. This will help you get the loans paid off faster and help you attain your payoff goals. Nonetheless, all payments are suspended until September 30th, but you may still make payments if you are able.
Another provision that affects student loan borrowers is the 0% interest waiver. From March 13, 2020, through September 30, 2020, the interest rate is 0% on the following types of federal student loans, but only if they are loans owned by ED. For example, if you borrowed or have borrowed federal loans while in college, as an undergraduate and/or graduate/professional student, the interest will not accrue on your loans during this time.
This applies to:
Defaulted and nondefaulted Direct Loans
Defaulted and nondefaulted FFEL Program loans
Defaulted and nondefaulted Federal Perkins Loans
Defaulted HEAL loans
If you're concerned about your studies or loan repayment, we can help you understand what to do in certain circumstances. To be your own financial advocate, we recommend checking with your loan servicer (Navient, Mohela, Fed Loan Servicing, Great Lakes, Cornerstone, etc.) to make sure these two things are happening with your own student loans.
We'll be adding information for students, borrowers, and parents on our social media pages on a regular basis, so please check back frequently. Until then, stay safe and healthy and we anxiously await your return to campus in August!